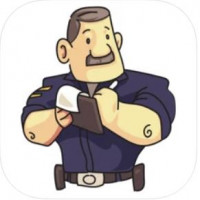 WTMP (Who touched my phone? )
Rating: 5.00 (Votes: 1)
Protect your device with Wtmp the best anti-spy and anti-thief phone app. Learn who touched your gadget and keep it safe any time
Safety is what modern phone users appreciate the most. Spying on us or stealing our device is the worse thing to happen.
The apps like WTMP are our reliable guides to secure usage and our phone protection. Get it today and be reassured.
What is WTMP
Who Touched My Phone is a brilliant solution for everyone worrying about his data on the phone or the device itself.
The app makes pics of a person who took your phone and tried to unlock it, without them being aware of that.
Instantly after that, WTMP turns on the loud siren. What a genial prevention against curious wives and parents.
In serious cases, the app helps fight thieves and criminals who broke into one's place or robbed him in public.
The WTMP Features
Although very simple, the app keeps on improving its options regularly. There may be a simple set of features at the moment, but more surprises are coming in near future.
Photo report. Like a true security worker, WTMP thoroughly and secretly takes a photo of anyone who tried to intrude. You'll find the report section within the app.

Motion alarm. Once a phone is moved from its place while you're away, the loud sound will notify about that. A thief won't be able to set the volume lower.
Keen on observing how this great app is going to develop further? Start using it and you'll see how often brilliant updates are made. WTMP is going to be of great use for you.
What age is WTMP for
The official age range of the WTMP app is 3+, so in theory, even children can use it.
Keep your privacy protected regardless of your age, gender, or social status.
Underage users may get extra protection from malicious buddies. But they are not encouraged to prevent the parental control this way.
Technically, using WTMP is easy enough even for kiddies and seniors.
All symbols are big and recognizable, navigation is intuitive, and a set of features is the simplest.
There is no explicit or violent content, nor anything that could hurt people's feelings.
Be sure that you or your sensitive relatives will use WTMP without any harm of difficulty.
By statistics, WTMP is used the most by 25-39 y.o. personals, both at home and in the office.
Is WTMP the best
Among the apps that help prevent phone intruding and robbery, WTMP is certainly the best.
It is very affordable, trendy, simple, and has a cute logo depicting a kind but strict policeman.
Teens just love it, as well as older users taking care of their gadgets and info stored there.
More expensive or complicated platforms won't do bigger things for you, so why spend a lot.
Better choose WTMP which is fairly priced and totally satisfying with its service.
Is WTMP free
This great app allows use it for free until the third thief catch. This is a lot already, in terms of one's safety!
Once you caught some stranger or your acquaintance trying to break into your device, for the third time, you need to upgrade.
The developer makes sure the price always remains low and fair, so that even a youngster can afford it.
One can check an actual price in the description of the app. It is relevant to similar platforms as well.
Free protection of your gadgets is an awesome opportunity. Three times saving your phone for free is already worthy of installing.
When does WTMP work
WTMP sets alarm when someone moved your phone in any way, detached the charging cable, or grabbed the device.
It is impossible to make the alarm sound lower until you unblock the screen yourself.
The alarm sound isn't stressful but rather entertaining, just in case it's your old granny who got curious to check on you.
At the same time, it is loud and shaking enough to scare away the real thief or abuser.
Users report both precious and funny cases of the app use. They were rescued by it, and they tricked their home folks or co-workers with its help.
But not having it at all is simply non-modern, and one would rather regret this. Choose it for fun and real profit.
What is WTMP rating
To go into some concrete numbers, WTMP app is given a positive rate from 4 to 5 stars by 680+ users on Play Market and 650+ users on App Store.
It is used and popular the most in the US, UK, Canada, and Russia. Its popularity grows in 10+ countries too.
In 2022, the WTMP app went known as the one that beats 20+ competitors in the market.
It is mostly achieved by the combination of features not available on other platforms.
They either make a thief's photo or set alarm, but WTMP does both. More features will be added soon.
How to make WTMP work
Prior to using WTMP, make sure to adjust all setting thoroughly. It concerns the alarm type, photos number, etc.
Then, to activate it, do not leave the app when locking the screen. Then it'll react on the intruder.
If you have used all three free attempts, you'll get the notification about the need to upgrade.
WTMP serves you once and forever, there's no quest for better apps as this one is simply perfect.
Is WTMP child-friendly
While some app competitors indicate the 12+ age range, WTMP uses milder alarm and less intense design or interface. It makes the app child-friendly.
Users with sensitive perception have reported they didn't experience any discomfort with WTMP either.
Extra protection is needed for your child or a senior family member, if they have pricey gadgets.
Anyone who is lost-minded due to age, character, or being busy with school/work duties, can get protected by WTMP.
Very crowded space, a big team with unknown visitors, public transport, all that adds a lot to the necessity of using WTMP on a daily basis.
We cannot be with our loved ones, but we can make sure they stay connected and their device is safe.
Use the Family sharing feature for passing the access to your underage or senior relatives.
Is WTMP any good
Among thousands soon millions of users, no one have reported the app non-efficiency.
On the opposite, WTMP has helped in so many cases and prevented the theft or phone misusing by the third parties.
If you don't want your gf or a sibling to check on your online activities, be sure this app works against that too.
Technical bugs were reported only at the beginning in the app's first versions. It is totally improved now.
Although plain and very simple, it does its job well and serves users with all loyalty.
By statistics, it is rarely ever removed from users' phones once they started using WTMP, and they keep on leaving good responses.
Why choose WTMP
There are just a few analog apps in the market and they do not provide all the range of protecting services.
None has such a number of positive responses or this wide age spectrum. WTMP covers all categories of users.
If you lead an active lifestyle, it is for sure that WTMP will be in use and of great help at least several times a day.
It works as expected, and can be called a must-have app for each and every person.
The don'ts on WTMP
Apps like WTMP are developed and meant for getting protection from strangers, mostly.
The app doesn't promote or encourage having secrets from one's parents or a spouse.
Within a family, protecting one's personal space should be organized verbally rather than technically.
Do not try to simply scare your close ones with the alarm sound. WTMP isn't mean for pranks.
At the same time, the app usage isn't limited in any way. There are only recommendations to follow.
The WTMP app itself doesn't fully prevent from thief, it just helps to notice it instantly.
One still needs to be cautious and use all possible measures to protect his gadgets.
What to expect from WTMP
There are applications daily assistants that are simply vital and necessary.
It is not even recommended to leave home without them or have a prestigious phone model without them being installed.
WTMP is exactly of this kind, and it fully meets all expectations once adjusted.
Its daily help is irreplaceable. Regardless of where you left your gadget and why, the app will take care of it.
You may leave your working place for a few minutes or forget your phone in public spot.
WTMP shall register all intruders trying to unlock the screen or misuse your data.
Anyone who dares to move the phone, will be instantly shocked by the alarm.
If that is exactly what you wanted for your device, feel free to proceed and get WTMP.
What do users say about WTMP
One of the first apps that offer strong anti-thief protection, WTMP quickly went loved and appreciated.
It's fun and reassuring to have a strict invisible policeman on one's phone, most of them admit.
Teens appreciate the app for its small weight, up to three free sessions, and bright design.
While mature personals consider WTMP an important daily assistant supporting them in their duties.
Couples that use WTMP, admit it didn't affect their communication negatively, but rather taught to trust each other and respect the need in personal space.
Where can I use WTMP
It goes without saying that WTMP is used the most on crowded streets and in the transport.
Yet, a big percent of users keep it on at home as well, especially in big families or dormitories.
You never know who exactly may have second thoughts or fraudulent intentions.
So, always keep an eye on your environment and when you cannot, WTMP will do that for you.
While in the office, although the loud sound may break the business atmosphere, WTMP is simply vital.
Even in the best company, employees may have things against each other. Use WTMP and protect your data from intruders.
Is there any critics of WTMP
Who Touched My Phone is a brilliant app for everyone. But there are always people not happy with the product.
Luckily, there is a minority of them, and they mostly indicate they'd like to see more features.
It is for sure that WTMP will be updated further and keep on surprising its users, so their wish will be fulfilled.
Some claim the app repeats other platforms, but it's not so. WTMP is quite unique, and innovative.
There are a few alarm apps already in the market, but none combines this feature with taking a picture of the intruder and other options.
When installing it, one can be sure he is getting a powerful, competitive, and efficient product with no complete analogs out there.
Is WTMP safe to use
The main aim of the app Who Touched My Phone is surely safety. So it's also safe itself.
It doesn't collect any extra data of the user, doesn't share it with third parties, and doesn't store it anywhere.
All it needs to work properly is whether a person who tries to unlock the screen, has the credentials for that.
If the password, pattern, pin, face, or a fingerprint do not match, this is exactly when the alarm turns on and a picture is made.
So yes, WTMP is a completely safe app in all regards, and one shouldn't worry about that.
Based on 1 Votes and 0 User Reviews
Other Apps in This Category